As we prepare to enter the warmer months of the year for sure, many people are now visualizing how they will be spending their summer in the Philippines 2021 - in a fun yet safest way possible away from COVID-19.
Maybe you are thinking of hanging out at the pool. Or you might be heading to a glamorous, exotic destinations. Whatever it is, make sure that it would be fun, memorable and summer-satisfied experience!
And if you are like us, looking for a short break with the following perks:
2 hours travel from Cebu City
Moderate Allotted Budget
Superb facilities with various outdoor activities aside from swimming
Beach-like experience with their wave pool; raging-river infinity pool and Mountain view pools
Perfect for kids and kids-at-heart
Spacious with multiple pools to swim on
Overlooking Mountain/nature vibes
instagrammable/picturesque
Perfect for long or short trips for family, social activities, team-building & any other big gatherings
Then, Hidden Valley Mountain, Wave Pool & Beach Resort in Pinamungajan is truly a gem that you must experience! :)
LOCATION
Hidden Valley Resort is located in the Southwestern part of Cebu Islands, Philippines. Particularly, in Barangay Lamac, Pinamungahan Town of Cebu. It's more or less two hours trip from Cebu City. I suggest you to take the Cebu - Toledo Wharf Rd/Toledo - Manipis Road as it's much faster compared to Cebu - Tabunok Road.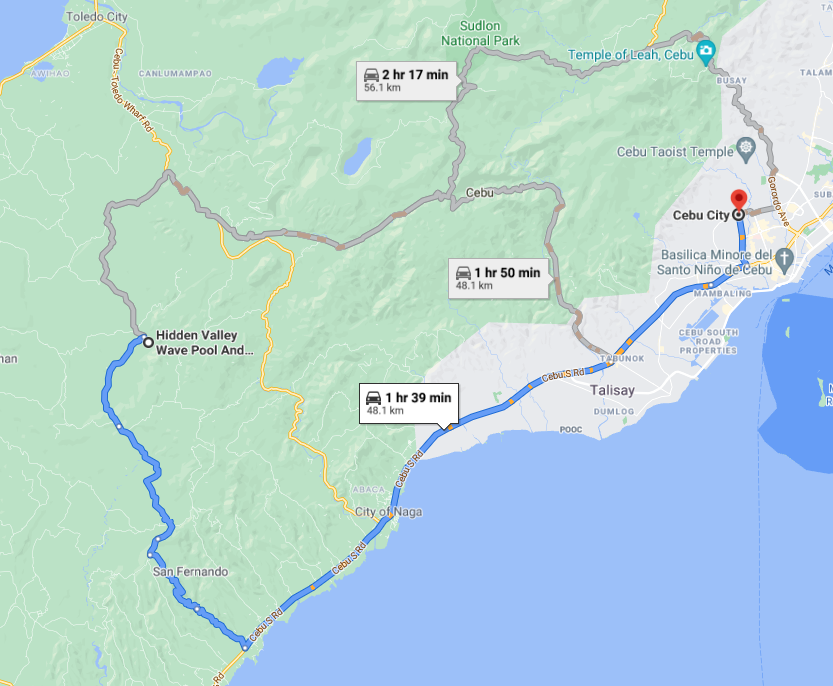 If you are planning to commute, you can a take a bus in Cebu South Bus Terminal going to Lutopan, Toledo City. Inform the driver to drop you off at Eskina Bunga for Hidden Valley. Travel time would be 2 hours or less depending on the traffic. Once you reach the Eskina Bunga, you can take a "habal-habal" (motorcycle) going to Hidden Valley Wave Pool. Travel time is another 15-20 minutes for around 14km.
If you are just up for a day-trip on this hidden gem, I suggest to start your trip early in the morning so you will have enough time to roam around, enjoy each pool attractions and facilities that the resort is offering. You have the option to choose any of the three main pool attractions or you can have them all access. It is 150 pesos entrance fee for each pool attraction. And if you opt to have the all access, it would be for just 350 pesos which saves you 100 pesos.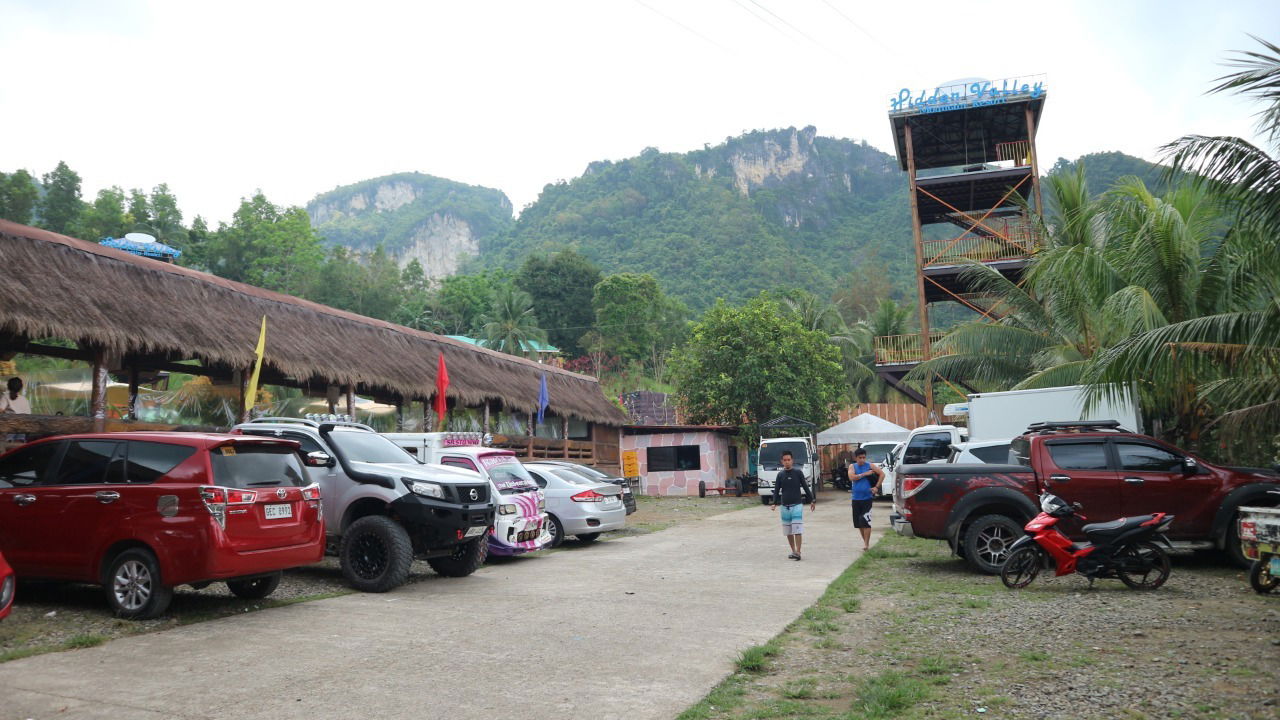 That's why I suggest you to start your day early if you not planning to have an overnight stay at the place. We arrived at the resort around 1PM already and since we were just there for a short trip and planning to go home before 6PM, we decided to just opt for the Mountain View Pool and the Wave Pool attraction. If only I know ahead of time that the Raging-River Infinity Pool is also a must-have experience, we should had started our day early and opted on the all-access entrance fee. Nevertheless, it was still fun and superb experience! 😊
WAVE POOL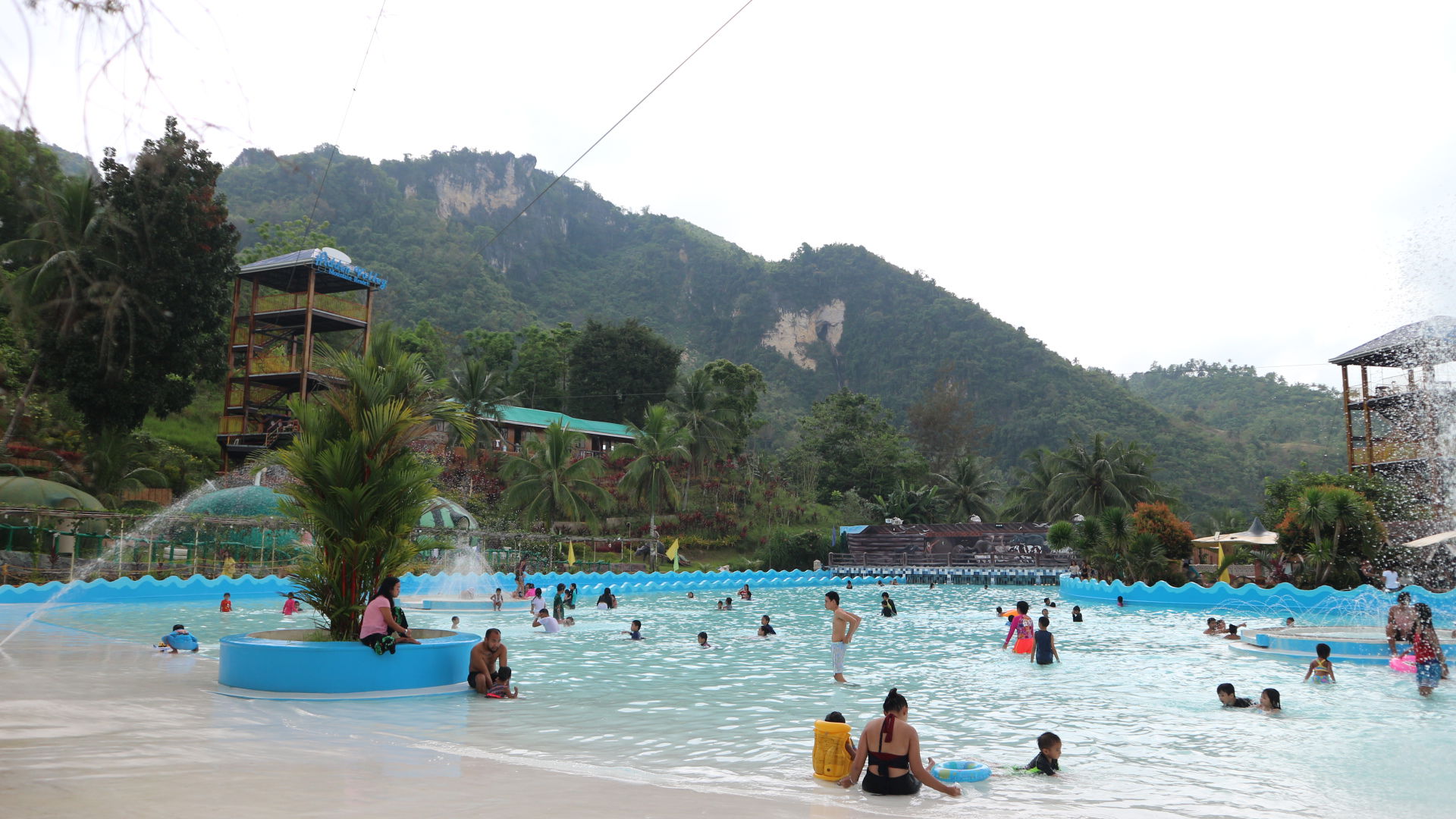 Since the wave pool is located on the lower part of the entire resort and right after where you pay your entrance fee, this is the first that we tried. Below are the fees of the cottages inside the Wave Pool Resort:
Table & Chairs (4 pax) - 350.00 Php
Umbrella Cottage - 500.00 Php
Native Cottage - 600.00 Php
Mushroom Cottage - 800.00 Php
White Tent - 1,500.00 Php
Big Kiosk - 2,500.00 Php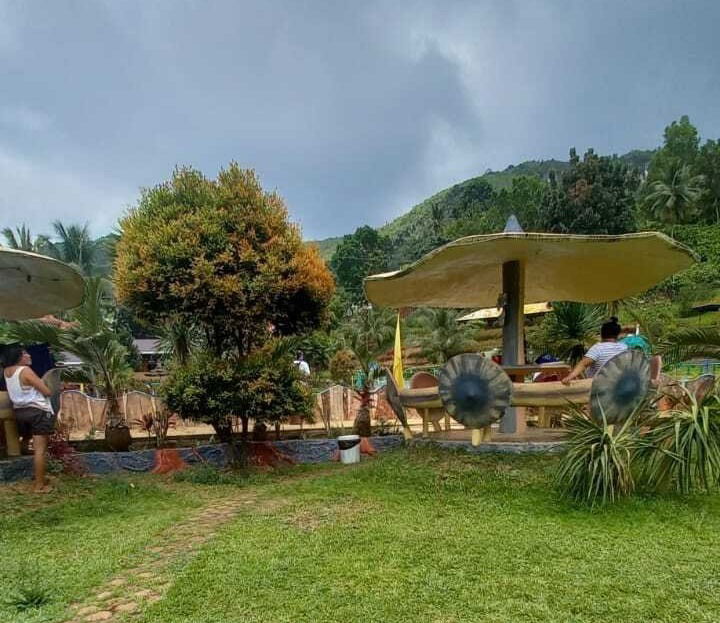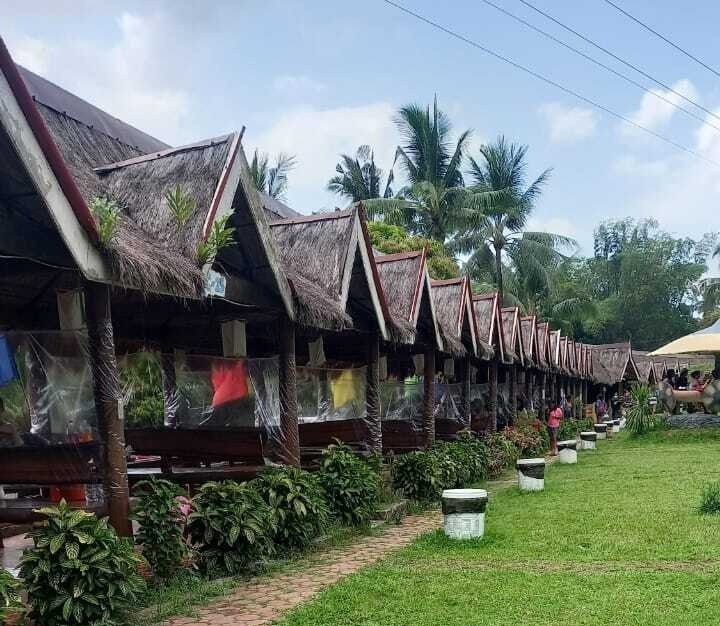 Wave pool from its name, it's basically like a sea but a man-made one. Every hour, you'll hear a ship horn sound effect, indication that the fun waves will start any time soon and better get ready with it! I noticed that whenever kids and kids-at-heart hear this sound, they immediately run in the water and eagerly waiting to embrace the waves. If you have not brought your kids in this place yet, better have this one on your bucket list as your kids will surely imprint this enjoyable experience when they grow up.
We stayed and enjoyed the wave pool for an hour or two. It really brought back the kids in us. We even made friends with the real ones which made it a lot funnier and memorable.
After our swimming session at the wave pool resort, we headed to the mountain view part of the resort where multiple mountain pools are located. But before we started another swimming galore which this time the Mountain Pool side, we went to the canteen first to have some water (their water is free of charge).
We we're just supposed to just drink but then we found out that no one was using the karaoke machine and so, I pushed this one to do the singing all-out! Lol! Afterall, the Mountain Pool area is less crowded compare to the other two main pools. It feels like we owned the place with a special appearance of the store attendants at his back.
MOUNTAIN POOLS
If your trip is to have a quieter escapade on this place, you better choose to have the Mountain View Pool. The Mountain Resort features two regular pools for adults and another two regular pools for kids. As I mentioned on the previous, this is the less crowded part of the entire resort.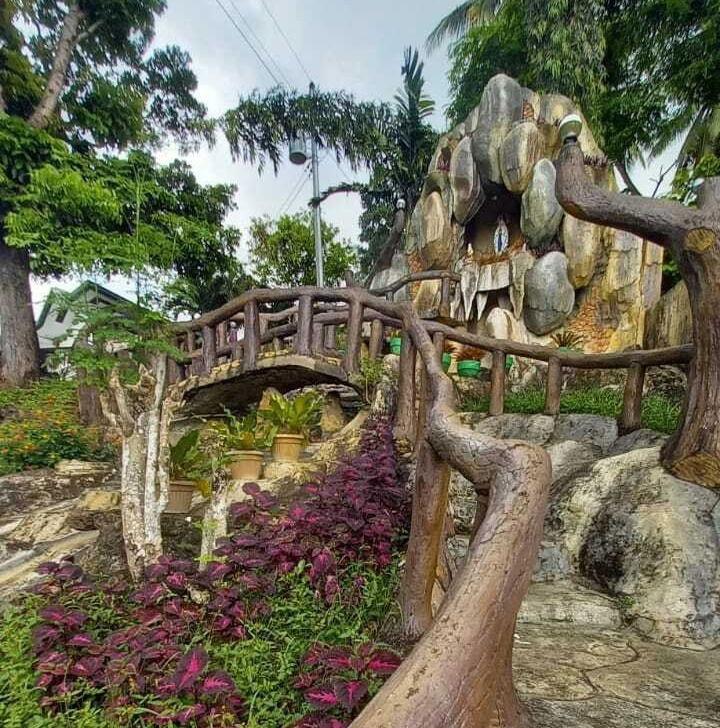 In this open and spacious mountain and valley resort, you will certainly enjoy the environment and nature. Not only that but you can also use the facilities and available resources to enjoy any activity you can do here.
According to the guards that we have talked to, the area is around 7 hectares which is exceptionally wide and spacious, perfect for outdoor activities while surrounded with mountains and cool-breeze vibes. Truly ideal for adrenaline-pumping adventures like sky biking, camping and other leisurely activities.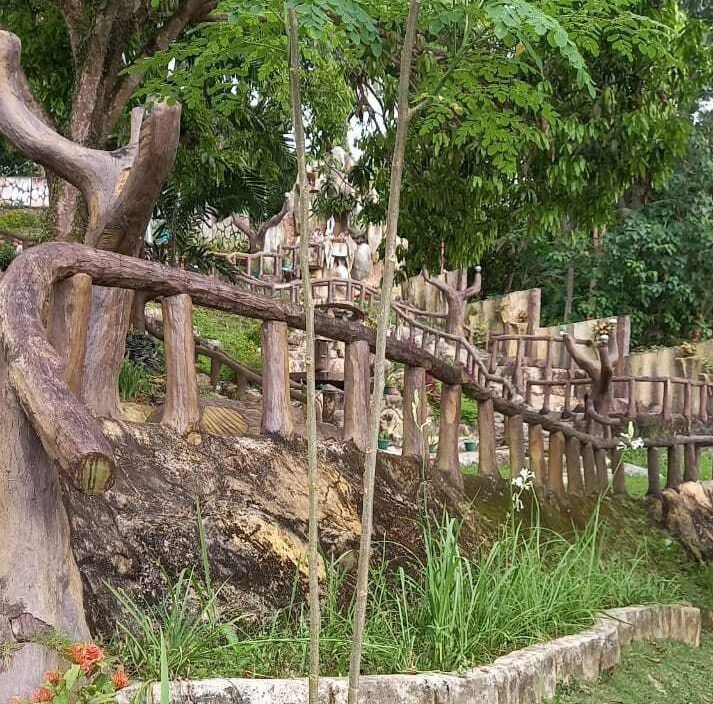 On the other side, you can also find the raging-river pool infinity pool. But since we only paid for the other two main pool attractions, Mountain Resort Pool and Wave Pool, we'll just focus with these two. If given a chance, we will definitely comeback to try the raging-river pool infinity pool.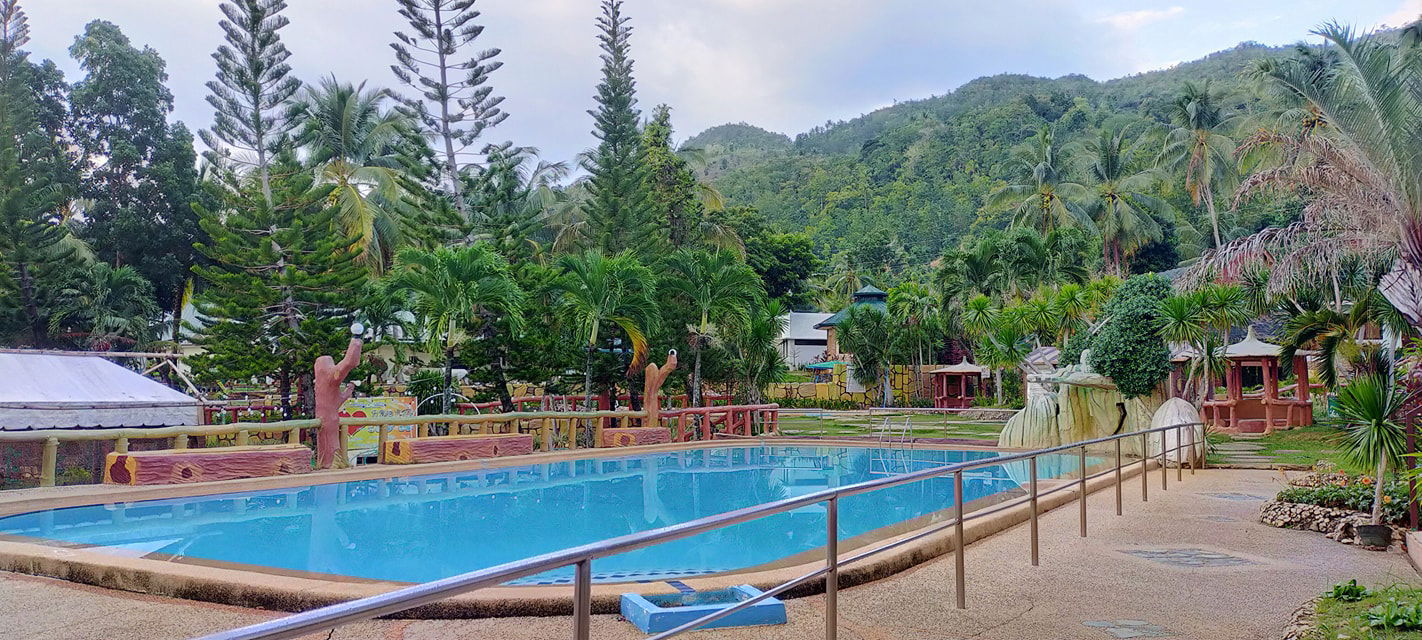 We roamed around the resort and found some picture-worthy spots to pose on. I didn't hesitate to get tons of photos and selfies and there are only few people around the area.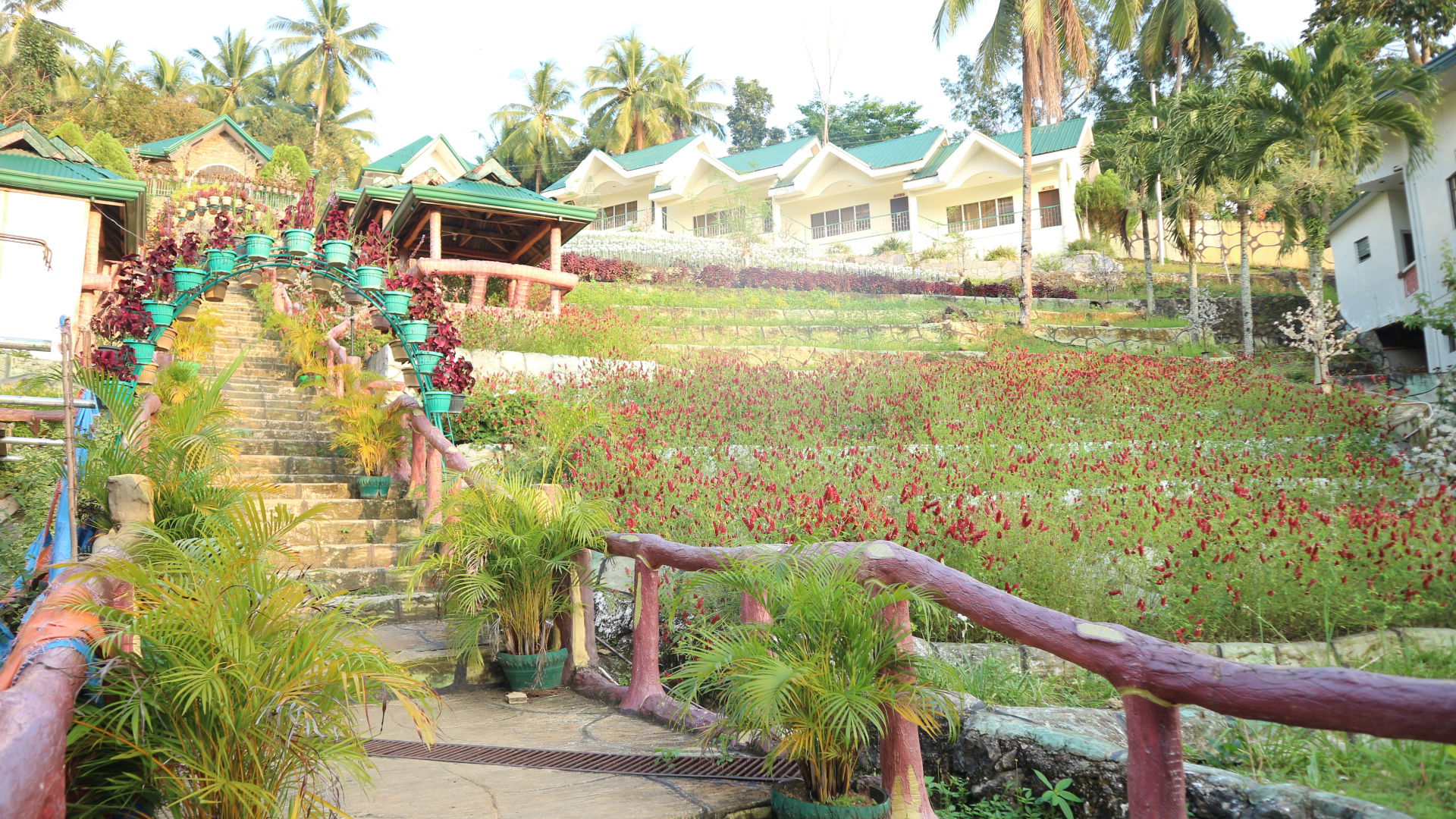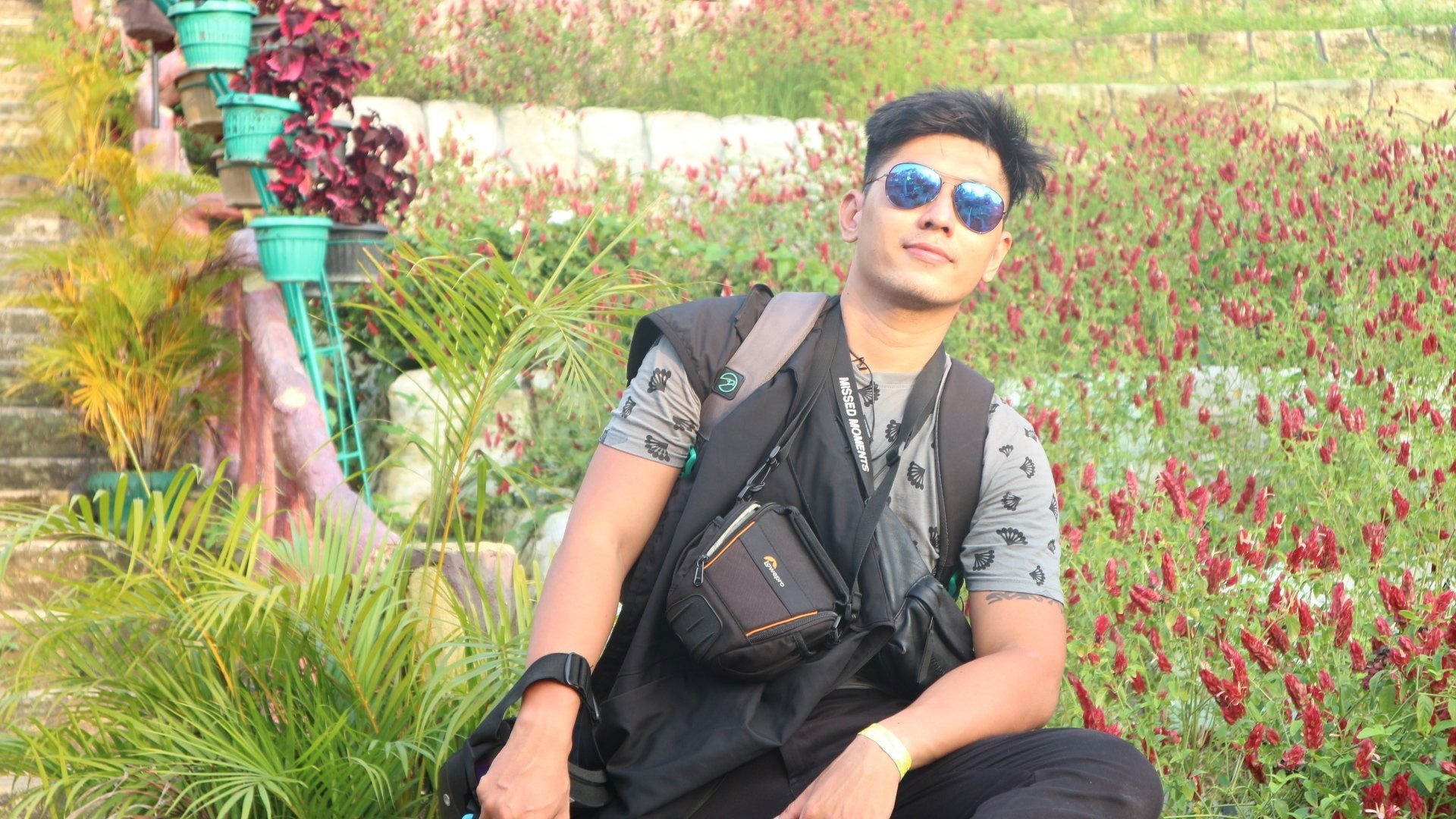 Another picture-worthy attraction at the mountain resort part is their white LED roses. It is the same to the 10,000 Roses Café in Cordova, Cebu. Better go to this place during sunset to have a golden hour glow effect on your instagrammable photos.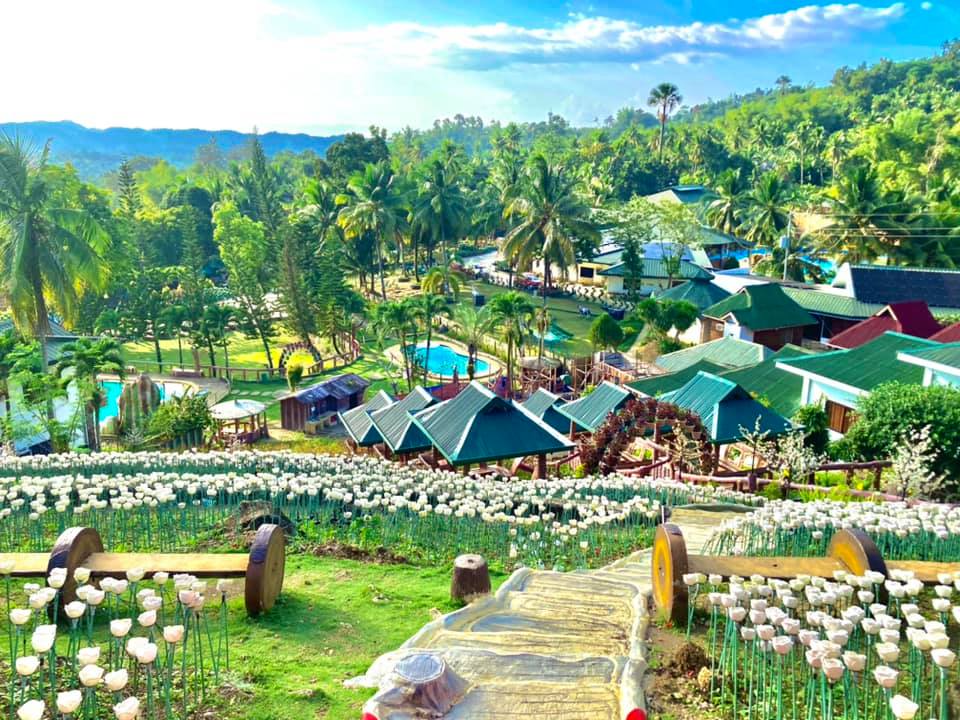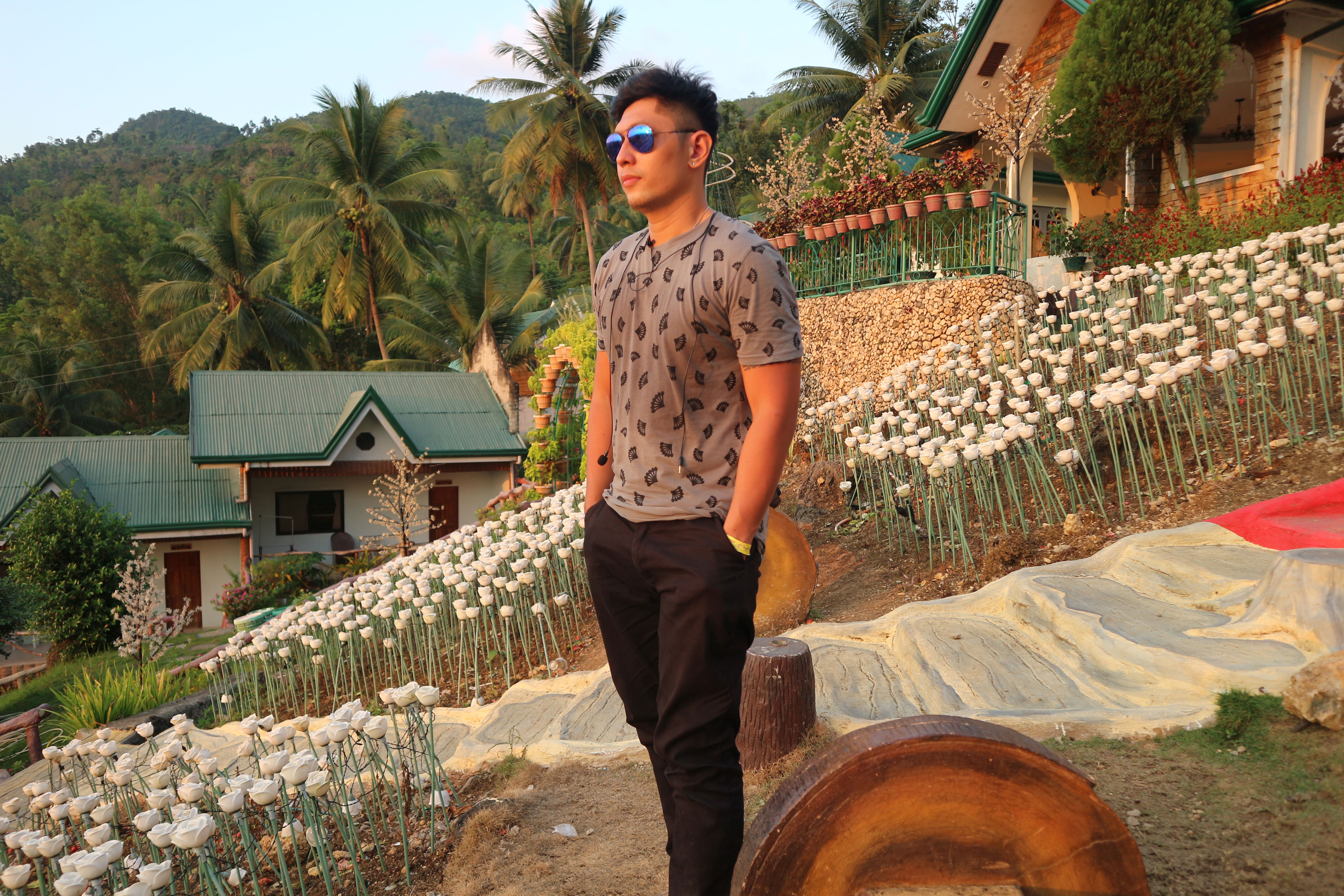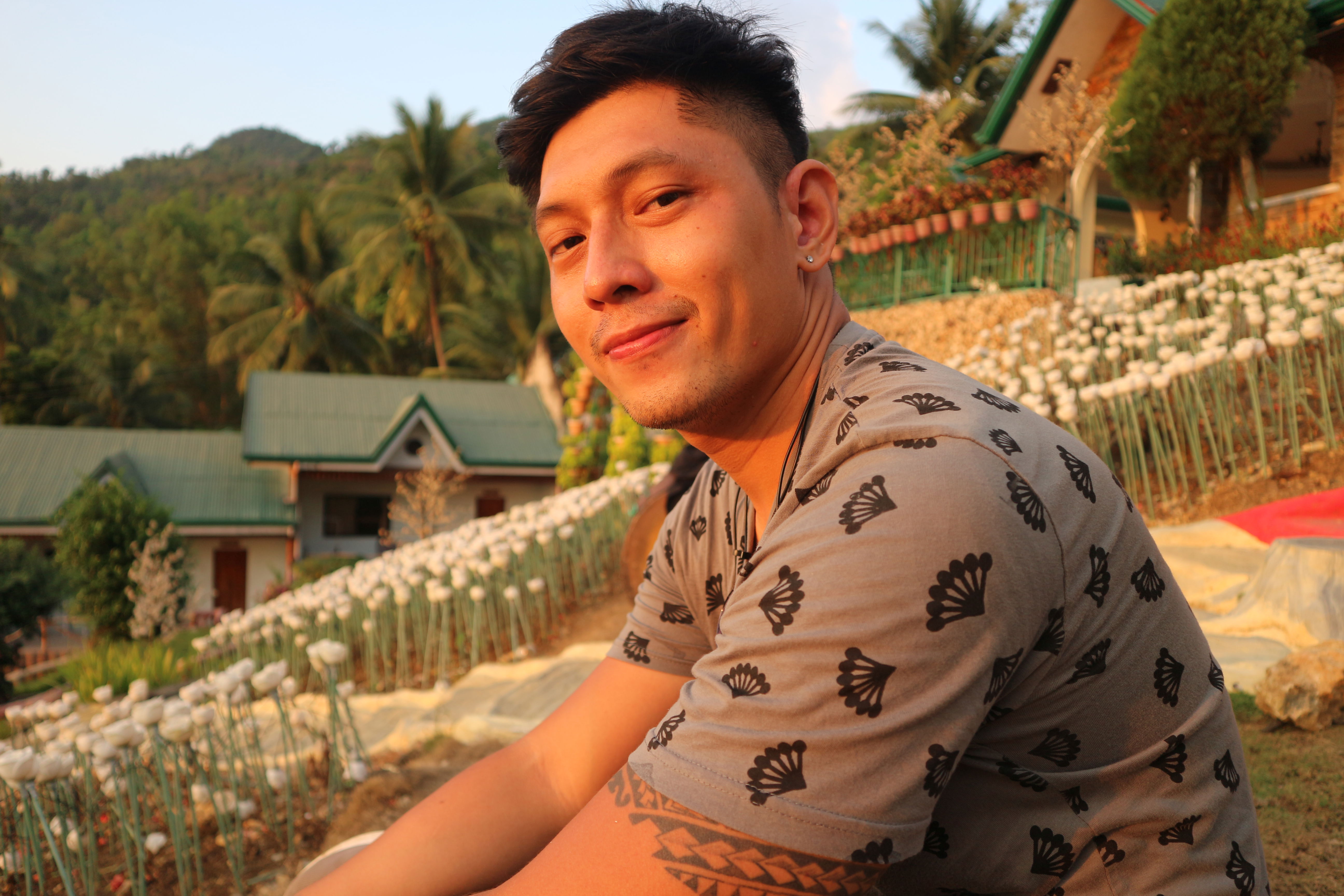 Other Fun & Interesting Activities
Swimming
Skybiking
Ziplining
Camping
Karaoke
Playing games in their sports center
Enjoying the fish pond, etc.
Food & Drinks
Bringing of your own food is not allowed but they are offering variety of dishes that you could choose from and at a very reasonable price. Snack bars and canteens are everywhere too which shoudn't be a problem.
Cocktail Receptions
Of course, you just don't hold very serious and work related events here. You can have your weddings, debuts, parties, anniversaries, honeymoon, and anything about gatherings as social human beings.
Natibo Resto. It is a traditional or native Filipino restaurant.
Café Veranda for drinks
Kabyaw Ristawran (a restaurant)
4 Swimming pools (separate for children and adults)
Fish pond, kiosks, camping ground, hiking trail, sports center
Botanical garden
Life-size animal figures
Convenience Store, etc
Certainly, there are a lot more the resort can offer. Better visit the place and check for yourselves! :) Below are the current rates as of 2021. Please be aware that rates subject to change without prior notice. Contacting the resort directly is highly recommended.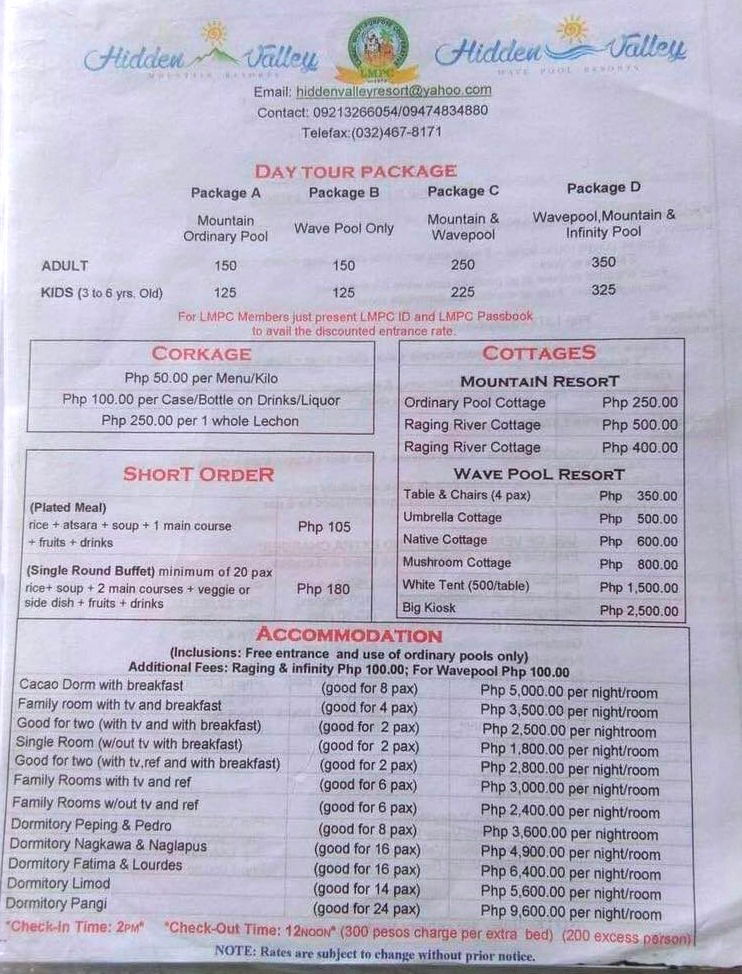 FOR BOOKINGS AND/OR DETAILS, PLEASE CONTACT THESE FOLLOWING: